---
The Trip Report:
The book says no major rapids, I decide to go without my wet suit today. I'm also paddling with Glen, I go in the Stern to start. I out weigh Glen by a lot, probably 50-60lbs, and do not want to get wet going through any big waves. Glen seems keen to run every wave he can...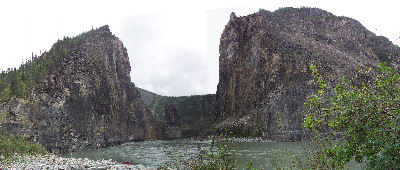 The Gate.



A quick bite, and we start hiking up the the mountain, to get a view of the river from above the pulpit. It is a short hike, that is very nice. Taking a fairly well worn trail, although we managed to loose it, as we worked along the edge of the cliff. It includes some working through a bolder garden. The view from the top is impressive.



Some time after The Gate, I switch positions in the canoe with Glen, I go in the Bow. There is a set of waves across the river, glen is ferrying us across to them. I ask what he wants to do, he replies "I just want to take a look". Of course what he meant was "I want to run through them", I should have known. Unfortunately I took him at his word, as we plowed through the first wave, I was drenched up to my armpits. My camera was in my pocket, and never worked again. To bad, I had the dry case right next to me. I was a little grumpy after that for a bit, but glen took lots of pictures (which I should get soon), and I wanted a new higher resolution waterproof camera anyways.

At one point as we are floating along the side of the cliff, just skirting an eddy line, that is quite turbulent. The waves are not huge or anything, but the depth of the water is causing some big boils, and whirlpools to form. We are just outside the edge of two separate whirl pools that are somewhere between 1 and 2ft in diameter. We paddle out away from the line. Rich is coming behind us, he is a little closer to the eddy lines, but no whirlpools are present when he first gets there. A small one starts to form, he watches as it gets bigger and bigger floating right into his canoe. He utters an "uh oh" just as it hits. We look back in time to see his canoe spinning around, and start to sink down. Rich spins once, then twice, on the second revolution he starts paddling like mad, and breaks out to the main river current. I mention to Glen "you know, that's the hardest I've ever seen rich paddle". Rich catches up to us and says, "did you see that!". "I think that's the hardest I've ever paddled!".

Rich rafts up and tells us of the surprise of watching the whirlpool form, as the stern of his canoe started to suck down. Working the lean as the Bow went swung through into the eddy, and then back out into the main current. He tells us he was wondering, at which point he should jump out of the canoe if it goes under. Then decided to paddle like mad to get out, which we witnessed. I reach out, and lean with most of my weight on the back of his canoe (about 200lbs worth), rich figures the canoe was down about twice as far due to the suction of the whirlpool.


We all feel we are a little behind schedule with our early stop yesterday. Actually none of us really knows what the schedule is. It's hard to judge, we've been going 'lazy' short days, but the river is fast here. We know the river slows down for the last 1/3rd of the distance in the splits. However, we all enjoyed setting up camp early the day before. We discuss what to do, and decide we would paddle a bit longer today, and still get a fairly early setup. Eventually we find a reasonable place to stop, as we scout it out though we find very fresh bear sign. Fresh tracks from earlier in the day. So we move on. So once again we set up camp somewhat late.