Paddle: North Saskachewan Hornburg to Rocky Mountain House
Quick Summary
Summary: A Day trip on a Grade II section of the River. The water was high, Rocks were not an issue, but lots of waves
Distance of trip: 35km
How to get to the set in point: Hwy 11A West of Rocky Mtn House, to the ....
How to get to the take out point: Follow 11A to the end, just prior to reaching the HWY 11, turn left and follow the road to the end.
River Grade: 2
Rapids:

Devils Elbow: II

Mother II

Gray's II-II+

Outcrop I+

Fishers II

Greer I+

Lower Fishers II-II+

Brierley's II=II+

Paddleiing partners: Chris M. and Jason Q.
Level of experince of group: Novice
Level of experince of the trip author: Novice+
Camp sites used: NA (Day trip)
Weather Conditions: Hot, Thunder storms
Trip rating, and some justification of the rating: Fantastic,
Good points / Bad points: Ended up swimming again
Boat style used: Chris and I in canoe, Jay in a WW kayak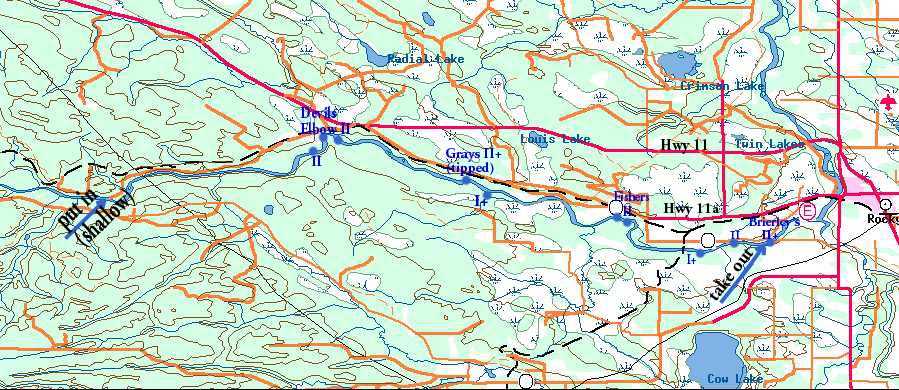 "Map is © Her Majesty the Queen in Right of Canada, Department of Natural Resources. All rights reserved."
About the Paddle
Chris, and Randy are two of my buddy's from Highschool days. The only two I've managed to stay in contact with through the years. Planning this trip in May. After a single E-mail saying 'We should go canoeing this summer' from Me, and a responce from Chris of ' I'm open July 11th and 12th', and a final. 'I'm 100% in from me'. Planning came to an end, until around July 10th. We were able to figureout the location, a meeting place and we were good to go. Unfortunatly Randy can not make it this year, but in his place Jason will be there. I've always liked Jason. It will be good to see some of the gang from High School again.
A 2.5 or so hour drive to Rocky Mountain house, which is some what in the middle between Calgary (where I live) and Edson(where Chris lives) is the home of the Jason, and the North Saskachewan river. Historically, it is the 'end of the line' for the river traffic coming up from the Hudsons bay. The river is now a bit fast for the bigger river boats. Good for canoes though. Which makes it a good place for this trip.
It will be the first time I'm taking my canoe in Class II rapids. Not boulder gardens, but big standing waves as the river winds its way down in to Rocky Mountain House. During the planed 4 hour trip we will be going through a half a dozen rapids in around Grade II. Chris and Jason have both made this run several times, first time for me. As usual, I've forgotten my river map at home in my haste to get out of the house.
At the set in we wait in the swealtering heat for another frend Scott to join us with a raft and some of the kids. After 1/2 an hour we leave. It's been a slow moringin at the time is somewhere between 2 adn 3:00. It is kind of odd how all my friends don't seem to wear watches.
The first part of the trip, the 150m or so was not pleasant. The access is on a very shallow side channel, there was lots of grinding of the Cedar strip canoe on the rocks (infact I cracked the glass at one point). Put more scratches in that 150m than in the rest of the trip, and my previous 2 trips combined. After joining the main channel, rocks were not a probem again. Lots of water for this trip.
Jay tells us that Devils Elbow, the first set of real rapids is about 10 minutes away. My map shows Devils Elbow as class II-II+. We doddle on our way down , Jay practices in some small standing waves, and eddies. Jay is a budding kayaker, and is having lots of fun. However he has yet to master the roll, so we ditch a couple of times so he can empty his kayak.
I ask that we stop and survey the rapids before going through them, even though Chirs and Jay have been down a 1/2 dozen times each. I'm conserned with the 'high' water that they may have become some sort of mutant canoest eating machines. but they are not that bad looking while standing on the oposite shore. Devils Elbow is a 100m+ long wave train runnin along the outside bend of the river. We do not see any rocks above the water line, nor any obvious keepers or the like from the other side of the river. Jay points out the biggest waves are about 2/3 or 3/4 of the way through, a set of 3 or 4.
This is the first big test for Chris and I. Chris is keen to hit the waves. Chris's phylosophy is that "Fear is the best teacher". Chris is not a techincal canoest to say the least. Chris and Jay try to convince me the best way to go through the waves is at an angle to the wave front. Hmmmm... Did I mention I have a lot of respect for these two? Well I do, but I just can't buy their theory. I've certainly never heard it before. I convice Chris that we will just try to go through slow to try and prevent shipping to much water.
We ferry accross, turn and line up with the rapids. BTW, stay to the right if you want to avoid them. As we get closer, they are no longer looking 'not that bad'. They are looking pretty damn big, but that's the way it works. Waves are probable 3ft or so peak to trough. Chris and I maintain a fairly Agressive line through the rapids, We miss the biggest waves, still get some pretty goods ones. I hear Jason from behind, 'here are the big ones'. and we go through them, taking some water, but not enough to swamp us. Soon we are through, and out. We have 5-10 Gallons of water in the canoe, but we made it. Fantastic, It was almost easy, this back paddling taking it slow thing seems to work well.
There is a bit of an eddie on the left side of the river, we take it to empty out the canoe. Right after Devils Elbow there is a short set of rapids. We go through these yesterday they would have been on par with the the biggest best set of rapids I'd ever gone through. In fact they'd have seemed intimidating. However after the last set they are just fun.
I think it was in this set that Chris started doing somthing odd. In my mind odd, anyways, not in Chis'. He started holding his paddle up in the air and just practicing keeping balance. He became convinced as we went through this rapid that this was the thing to do. I did not disagree, thinking about it... It keeps your hands off teh gunwales. But after making it through "Mothers" - class II, I decided I did not like it. The old air brace just does not help much. However, we were doing okay, even if we were just on the (inside) edge of the rapids.
Next set of rapids, (looking at my map later is "Gray's": II-II+) Jay tells us to keep left to hit it. Much like elbow this rapid is along the outside bend of the river, with a rising steep bank. This time we do not stop to take a pre run look. After all Chris has been down here n and it is more or less Jasons back yard. This rapid has one feature that will not doubt be burned into my memory for all time.
We start this rapid in the waves, but trying to hit a line that will allow us to exit to the right if we must. We are bobing and some what dodging through the peaks. From the bow I see we are moving into center of the rapids, but am not super conerned. However as we get closer on wave looks huge, bigger than anything I've gone through before. The closer we get the bigger it is. Chris tries to call it off, with a holler of "Right, right, go right". Chris has made the call, so I try to help... however we are more or less at the same speed of the river. we turn right and dig in forward. The wave is 30ft in front of use, and we need to move over about 15ft to miss it. Not going to happen.
I'd put the wave at 4ft tall. Chris figures counting the drop, it was in the 5-6ft range. It was curling on it self a little bit at the top, not much though.
We drop over the ledge, or whatever is causeing the wave. we are about 45 degress to the wave. I'm not exactly sure what happened. The drop was around 1.5 ft maybe 2. the canoe may have spun a bit sideways. For me, I was on the side of the canoe going into the wave. I guess I should have layed down a high brace. I may have had a wimpy low brace going. I'm not sure if Chris had his paddle in the water, or was trying to maintain balance as we went into the wave.
I remeber glancing down and watching the water start to come over the upsteam gunwale. Then we just spun over. Cold Cold, gawd I hate being cold. Today I had my wet suit on, it really helped. Chris was already at upstream side, and back at the canoe. It was upside down. Chris had his torso up on the bottom of the hull. We were still in some pretty big waves and strong current. I swam to the canoe, first thinking to grab the throw bag and drag it to shore, but ended up being dowsed by a could waves. The canoe must have had a fair bit of air under it. I climbed up and joined Chris for a bit, to ride out the waves.
After we were through the worst of the waves, Chris started to head for shore. (he had his paddle). He was complaining of being cold (no wet suit). After the intial shock I was feeling not to bad. I tried for the throw bag. Unfortunatly it had released itself, so I got the rope. Trying to swim in a strong current feading a rope out in one hand, and holding your paddle in the other is surpisingly hard to do. It felt like I was making no progress.
Now Jay had caught up to the canoe and I. Chris was still struggling for shore. I handed him my paddle, and tried to swim a bit. still not working well. I ended up grabbing Jay's Stern loop hoping he could tow, me while I fed out the line. We were making slow progress. However Jason was having trouble paddleing holding two paddles. He gave mine back. In the struggle to kick, feed the line out with one hand, hold Jay's kayak, and kick. I ended up dropping the canoe.
So now I sent Jay with the canoe and swam for the shore. Turns out Chris and I had made it to the Islands just to the river right of Gray's Rapid. In fact Chris just caught the tail end of the first island, and I the front end of the second Island. Chris forded the river to my island, and we walked down stream. Jason was able to get the canoe to the island we were on with a few dozen feet to go.
Considering Jay had told us in some detail about the earlier Devils Elbow rapid. He had been been very silent on describing this one. after we were all to gether he made a comment along the lines of 'never made it through there in a canoe'. Seems last time down earlier this year in May, another common friend Glen, had tipped. After walking down the island we were now on and warming up a bit, he was some what stranded, as the canoe was not brought under control untill much farther down river. In May the N. Sask is very cold, Glen had just warmed up, only to have to jump in the river and swim off the island. Luckily we did not need to suffer that joy.
Chris was pretty cold now, shivering. However he refused, a couple of offers to switch into some dry cloths. So we loaded up, and set out. The only bit of gear missing was the foam piece used for a knee pad (we found it later). However now, we were some what inclined to miss the remainging rapids, neither of us really thought we'ed enjoy a second swim. It took us some time to warm up, as we were chasing a storm, and above us the sky was tended to be overcast much more often than a sunny break. We had tipped about 1/3 of the way through the trip, Jason ensured us that there were no more rapids that matched this one for the rest of the paddle.
It took us a few more hours to finish, we were all pretty tired by the end of it all. The rest of the tip is senic, still has some standing waves and the like. On the way down we skirt most of teh rapids. Chris does warm up eventually. But by the time we get to the pullout it is pushign 7:00, and we are a bit late. We do not attempt the rapids, and call it a day.
---
Got something to say about the trail covered in this article? Feel free to submit your comments! The intent is to provide your point of view on the trail, inaccuracies, changes, different opinions, etc. Thank you
Subscribe to our comments feed!

Copyright Myrl Tanton 2004
---