Hike: Boom Lake
SUMMARY:
distance: 10.2km difficulty: Easy year: 1999
Difficulty: Very Easy
Distance: 10.8 km
Elevation gain: about 200m
Partners: Carol Z. and Ben W.
Weather : Overcast
Date of Hike: 1999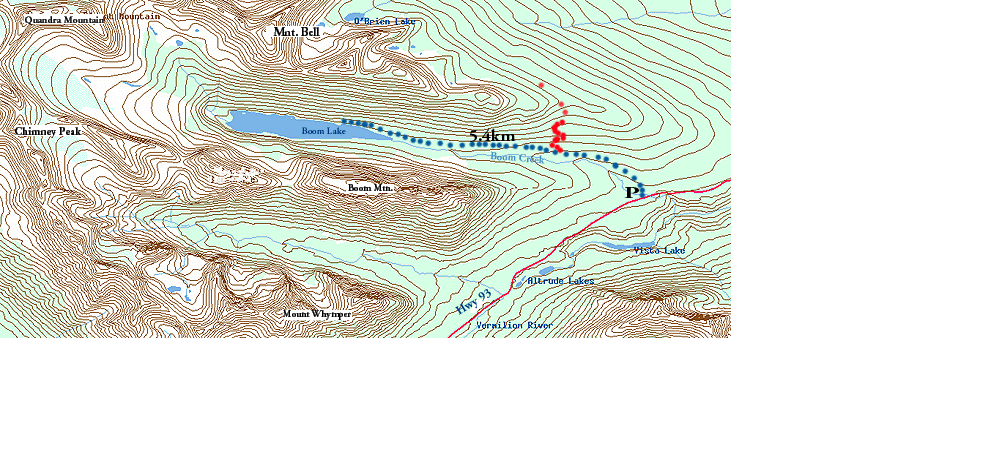 "Map is © Her Majesty the Queen in Right of Canada, Department of Natural Resources. All rights reserved."
map from the website http://toporama.cits.rncan.gc.ca/toporama_en.html
Ramble On
The trail head: To get to the trail head from Calgary, drive past Banff, turn Left (West) at Castle Junction. Follow Hwy 93 for 7km, The trail head is just off the highway on the right.
In the book 'Classic hikes in the Canadian Rockies' This hike is described as the easiest hike in the book. It is also on of the easiest hikes I have been on. It was a good choice for me, it was my first hike of the season, and I had a pretty bad cold at the time.
The drive through Banff did not look good for our intrepid hikers, it was pouring rain most of the way. By the time we got to the trail head The rain had stopped for a while, but the skys remained completly overcast.

The trail starts off right from the Hwy, this trail is a bit different from what I am used to, it has wash/bathrooms, and a small information shed complete with a map of the area. The trail starts by crossing the stream that flows out of Boom lake, but you need not worry about getting your feet or cloths soaked, as there is a solid bridge built.
The first section of the trail is almost a road, infact, it used to be some sort of miners or loggers road. it is a well graveled trail about 4ft wide. The trail breifly follows parallel to the Hwy, but soon turns left (North-West) through the valley between mount Bell on the left and Boom Mtn on the right, it is forested the entire way, giving the occasional glimps of the mountains on either side. The trees themselves are mostly the typical spruce(?) or fir, but they are lot bigger than the trees normally seen on my hikes at higher elevations. The trail continues to be well maintained, boarded and graveled for the first 2.5km or so. once it reaches the junction with Panorama Ridge Trail, which goes to Taylor lake, on on, the maintenace of the trail is not as good. Old boardwalks have rotted and collapsed. and the trail itself becomes narrower and a wee bit more rugged. Yet this is still more than I am used to in terms of trail maintainance.
In the next sequence of pictures you is the only bit of wildlife we saw on the trip. A grouse of some sort. He was just off the side of the trail. Carol and Ben walked right past her. I caugt some pictures of him flying up into the tree. in one picture he is outlined by the light background. I took a few steps and he 'vanished' into the dark camoflage of the trees. Here in the picture you see mount___ through the trees. I've included two close ups of the same picture to help you find him...even so it may take a bit in the last picture.






As we plodded along on what was more or less just a walk in the park one of the things that struck me was the sounds heard. Initially the trail is close to the Hwy, once the sounds of the traffic are long gone, the main sound is that of the Boom creek flowing out of boom lake, in addition to the sound of the creaking trees as they rock back and forth in the light breeze. Then the sound of a small streamlet flowing down the side of the mountain and accross our trail would quickly come into focus as we walked past. As the trail nears Boom lake, a sound I have not heard in a long time, the lonely cry of of the common loon, echoing off the walls of the mountain which come right down to the lake.

By the time we got to the lake itself, it was raining again, it was a fairly light rain, but enought to make us not linger at the lake for long. The trail comes to the lake right at the edge of a rock fall. The Lake was quite big, very clear, and would be a great place to hike up to and just have lunch on a nicer day, and maybe do some fishing. (I can not seem to find this pictures...If I do I'll put them up)

As mentioned earlier, this 'hike' is more of a walk in the park, we encountered Three other groups on the trail. Two of these groups had fairly young childeren (maybe 7 - 10 yrs old). So it would seem to be an ok hike for a family to take.

Added 2002: this summer I scrambled up Mnt temple, while traveling through larch valley, I encountered a mom, with three young kids. She had the youngest in a backpack-child carrier (less than 2yrs old) and two older girls, maybe 5 and 7. They had hiked through Paradise valley and were comming out on the larch trail... This is a much longer and harder hike. (I'd rate it as moderate/hard, given the distance, and some steep sections) So all this talk about taking kids on a hike seems to be pointless. Boom lake is trivial compared to the hike the family was on.

Nothing spectacular happened on the first hike of 1999, it did not have the feeling of acheivement attached to the hikes which put you up on a mountain top, but it was alot better than staying home in the city.

[an error occurred while processing this directive]