Paddle: Desolation Sound, BC
Quick Summary
Summary: A five day sea kayaking paddle/camping trip in (anything but) Desolation sound, British Columbia, Canada Distance of trip: 115 km
How to get to the set in point: xxx
How to get to the take out point: xxx
Paddleiing partners: Richard B, Suzane C
Level of experince of group: Novice-Intermediate
Level of experince of the trip author: Novice-Intermediate
Camp sites used:


Kingshorn
Teakernin
Rosco Bay
Cume Islands

Weather Conditions: Clear sunny, light winds and most, High 20s/ low 30s
Trip rating, and some justification of the rating: 8/10: A bit to rushed for my liking, Otherwise excellent.
Boat style used: Sea kayaks.



"Map is © Her Majesty the Queen in Right of Canada,
Department of Natural Resources. All rights reserved."
Ramble on about the hike
Day -1: getting to BC We are all packed, everyting is moved to my car. We are ready to leave work at noon. Before heading out we go to the U of C and pickup rental kayaks for Rich and Suzanne. (It is cheaper to rent them here, and since I'm driving mine out anyways...)
We are pulling out of Calgary by 3:00pm, only Rich is making the drive with me , Suzanne flies down to hang out with some old friends. The Drive to BC is full of chit chat, at one point we are describing our (lack of) planign for this trip, like most of our trips. Rich and I are friends, and at work, we are part of a small team. We know many people in common, infact probably everyone I've met in the last 8yrs, knows Rich. One of Richards friends, was asking Rich what it would be like heading out with me. His comment was something like should be great, but Myrl will forget something key...
We make it through the Rockies, although no records were set for time. My car is not th emost powerfull of machines, and it has three sea kayaks on top, and all our gear. We have to stop in Langley, around 1:00am. It's been a long day. Setting up Richards tent, only to find he forgot his tent poles... luckily I brought my tent, it is cheap, but better than nothing.
Day 0: Getting Suzzane Ferry to Victoria, pickup Suzanne, We drive up Island past Nanimo, and on to _____. Suzanne's sister, and family live here. Very nice folks, quite impressed. We stay for the night, Rich and I camp in the back yard, as they have a dog and I'm allergic.
Day 1: Oakeover to Kingshorn island More driving... to ___ to catch the ferry back to the mainland, getting off at Campbel River. A short hour or two drive accross Malaspina penisula to get to the set in.
We consider getting a boat to load our gear and drive us out. This to prevent a loop trip. We go to 'Y-Knot' kayaks. The fellow there, with a 'I don't want to turn away buisness', went on to s suggests we should paddle, as it is not that far for three fit people to go in 5 or 6 days. Then he gave us a map for free, that he usually charges $2.00 for, and spent time marking out recommended campsites and the like on it. He offers the use of his parking stalls for $3.00, but we decide to head down the road to the public warf.
We back track to the to the warf, end up getting charged $12 to set in, even though we used the beach. Oh well, should have given the money to the kayak guy. It is about 4:30pm by the time we get the kayak's unloaded from the car, and loaded with all the gear. Finally we are off.
It is a beautiful day, No clouds anywhere. The temperature is Warm, but not unconfortable. A very good sign of things to come on this trip. There is a 2knot or so current against us in Okeover Inlet as we start to head out. At least that is the estimate from the guy at the Y-Knot kayak shop.
I'm not exactly sure why this is called desolation sound? I'm sure it was once apon-a-time, but not so much anymore. There are houses along the right coast as we move up towards Coode Peninsula. Not an urban sprawl by any means, but neither is it desolate. A couple are in later stages of constuction, and a few are well weathered.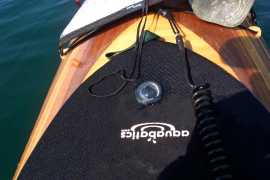 In the water are thousands of jelly fish. The float and move with the rythmic opening and closing of their entire body. It brings back memories, of catching them and putting them on the rocks to watch them 'melt'. Sigh, fun when your a kid... I guess. One gets scooped up onto my deck, and I snap the picture. Looks like a magnifing glass. Luckily for him, I'm no longer 'sadistic' and I toss him back in.
The Coode pninsula has a muscle farm on it... although we did not figure that out until on the way back. From further out it looked like some kind of floating pear. Infact it is platforms with strings of cages running inbetween, within grow the muscles. The houses are now mostly gone, although there are a few on the far shore.
A group is comming back in, we are fairly far out from shore, and they pass on the inside. They look tired, but happy. We pass with a wave. Wondering how many more kayakers will be out there. We know there are not a lot of camp sites in desolation sound, and that it can get croweded.
Following Coode Peninsula, is Coode Island. Another house sits between the two, with, what I assume is an oyster farm between. Infact, I'm not sure if it is an island, maybe when the tide is really high. Eventually we come to a few small Island off the north side. Again a house between the islands. we go in for a closer look, in the smallchannel between the islands (maybe 20ft across) there is a noticable current. Unlike the last house, this one is weather worn, but obviously inhabited. As we come out of the channel, we end up kayaking around another few dozen oyster lines, and into Trevener Bay.
We are greated by a seal, and the sudden slackening of the current. As the last islands behind, we are in the center of the Okeover inlet. to the left is Moss oint an Grace Harbour. Suzanne, complains that this is as far as they made it on the first day last time she was out here kayaking. We are here in not quite an hour, having gone perhaps 5km.
We opt to continue on, actually, it was not an option. Rich and Suz very keen to get out of the inlet. There are several islands starting about a km further on looking at the map, it is a bit confusing. As usual it is an issue of scale. The charts are surprisingly detailed, showing very small rocks. as we move through what is now cross inslet, around Cavendish rock, I ask wehre they think we are on the map, and what that island is 'way out there'. None of us Imediately agree with either of the others. Rich and I finally agree that teh island way out there, is Kingshorn, and we are looking directly past Beulai island. Suzanne, disagrees thinking kingshorn is much further, and that we can not see kingshorn from where we are as it is not in line of site.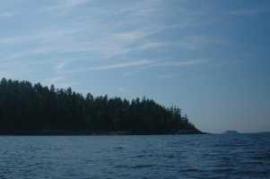 turns out we were all wrong. The island far out there, just of the edge of the penisula in the picture, was Station island. Suz was right in that we did not have line of site to Kingshorn, but Kingshorn is just West of station. Interesting, as it (again) drives home a diffictuly in reading maps, if you do not have a good feel for the scale. I'm sure it is second nature to some... but for some reason, not me. The is odd, and somewhat disturbing, as I really enjoy maps.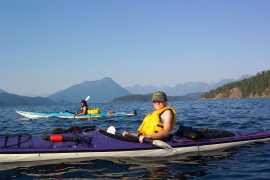 As we come to the mouth of the inlet, we stop and have a snack, a (discusting) energy bar of some kind, and a mixed fruit cup. I look at my GPS which I've got tracking our progress, and am quite surprised, at how far back we drift. the water seems nearly flat, but there is a real current in it. Now is the decision, do we cross to kings horn (another 4 or 5km) or head for the end of Malaspina Peninsula for one of the 3 campsites there. It would be anoying if Kingshorn was full. I'm already somewhat tired, as Rich and Suz have pushed the pace a bit.
Both are keen to cross, and I'm (as usual) pretty neutral. So off we go. We are now somewhat less sheltered, the waves are just over a foot. An easy crossing, only I was going to the lee side of the island, and they for the other side, a simple miss communications, but I was wondering why our courses were just a bit different. Funny, how that plays on you as you are out there, expecting them to 'get with it' and start to head the right way.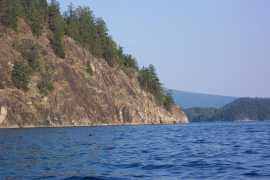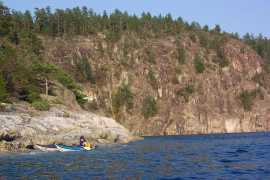 The West side (non-lee side) is a cliff droping into the ocean. Looking west there is a fair bit of fetch, but the waves are small, as there is little wind. A very impressive 3 masted sail boat, with red sail is racing back and forth about 8km away. The photos do not do it justice.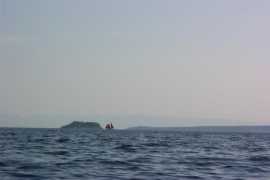 The North-West point on Kingshorn is a peninsula, and on it is a tent. very nice view, but not a really good sign, as this is not where the campsite is marked. Chatting with the couple, that have made this their home for the day, they tell us the site was empty. Great. The site is just east of the peninsula, and is in a well treed 1/2moon shaped beach.
We have gone over 17km, in 3.5hours. A good distance, at a moderate pace (for me that is). First nights supper is Steak, cooked on an open Grill, using the syrup for the pancakes as a braising sauce... and man is it good. With it are boiled carrots and potatos, very nice meal for the end of the day.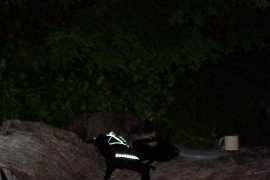 By the time we finsh cleaning dishes, it is getting dark. We look at the stars for a while. Suz heads for her tent. Rich and I stay up a bit later as it starts to get dark. I'm the last to wash up, and brush my teeth. As I head to beach to spit out the tooth paste, somthing, fairly big scurries away in front of me in the dark. Spooked me a bit, I assume it is a mink (which we had in the broken islands group). shining my headlight down teh shore I'm greated with the bright reflection of eyes. Racoons.
I call over Rich, we watch them, there the one first scared away, is pretty small, there is however his dad/mom hangin our. He is what I'd assume is a big racoon. He is brave too. He did not think anything of Ricard and I as he snooped through our stuff, with ridch and I standing 10 feet away shining the flashlights on him.
It is time to sleep, Rich and I make sure all the food is packed in the hatches, and off to bed we go. The racoons now have control of the beach.
Day 2: To Teakerne Arm
Did I mention we packed all the food in the kayaks... well I was mistaken. In the dark we managed to miss one bag. The big heavy one, full of bread, and pasta, and the 'core' stuff. It is pretty amazing how much the racoons were able to pull through a hole smaller than the diameter of a golf ball. Missing were: 1/2 a loaf of bread, 3 bagels, 2 packages of peta, about 1/2 our pasta. The rest in the bag was deemed 'spoiled', even if I would have eaten it, Suz would have none of it. Lost about 1/4 of our food on the first night of our week long trip.
Luckily Suzzane knows there is a store in Squirrel cove just across the next channel. It is a bit out of our way but not far. We'll be going there this morning.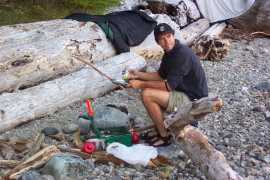 First though some breakfast. Today's we are having pancakes and Blueberries. Sounds Great! It's a bit of a disaster. Every one turns into some kind of cross between raw dough, scrambled eggs, and burnt stuff. Breakfast takes a long time to cook, and eat with only one pan (a pot lid) on the go at a time. We have to scrape the burnt stuff off between each 'pancake'. they do not taste to bad though. In the picture I think Rich is deciding if he really wants to cook another one.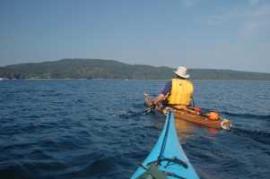 It is another beautiful day. We Cross ___ channel to squirrl cove. Suazanne has been in this area before, and knows there is a store there where we can replenish our food. After the crossing, we tie our kayaks to the pier. Three abreast, it makes getting out for the last guy a bit tricky. The scramble accross the other two floating kayaks is something that is going to make one of us go swimming one day.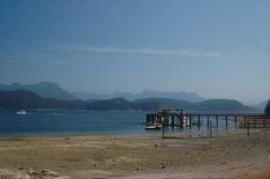 Since Suzanne was last here someone setup a restraunt, we have burgers for lunch, take out our charts and plan the rest of our trip. We had thought it would be a pretty long three days to get to Teakern (sp?) arm. However, after a short day yesterday, and a 1/2 day today, it is already within striking distance. We are going to go for it. Suz, tells us of a fantastic lake to swim in up there.
We cross squirrel cove, and Paddle up ____ channel, until we come to the point where teakern(sp?) arm starts. However it is across the channel We wait for a tug and it's tow to pass. There is some sailboat and power boat traffic in the channel, not a lot, but enough to hope they are going to see us.
Below are a few pictures. The first of Me, with the 'dazzle' off the water being. Suz heading up the channel, Then Looking accross the channel to the mouth of Teakerne arm, with a sail boat . The crossing is simillar to the two we've already done, around 4 or 5 km.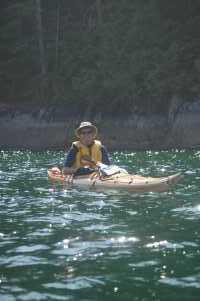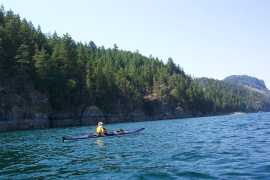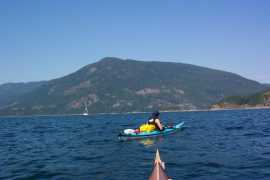 We come into to Teakern arm between a small Island on the point. It is here that being in the kayak is really nice. We really can go places the other boats can't. It is nice to be in tight to the shore, in the shallows.
Continueing down the arm, we cut a diagonal course to cross it. Comming out of our crossing at a residence. Lots of "SLOW" signs around his property, and you can see why. His house is not many feet above the hight tide line.
We discuss practicing towning, something none of us have done. We argue about where the best point to tie to towing kayak is. I think it is behind the towing kayak's cockpit, Suz thinks from the Stern. So now we have to give it a try. Rich ties up to me and off we go. First think we 'discover' is that having lots of tow line helps. Given the conditions we are in (calm) we find towing from the Stern is better. I still think cockpit is perfered but I did not try towing anyone. The reason better, would be in the waves, you may need to pivot/turn. It would be hard to do if you were tied at the stern. Anyways...
We land at the warf, and do the three kayaks tied side by side. This time we have people from the sail boats here watching us get out. They make comments like. This will be intersting. I'm waiting for Rich to climb out, and using duct tape to fix my sandels that are falling apart. When he is out, I toss the duct tape into the cockpit. Suz and I watch it bounce out and sink out of sight. Sigh.
We are now in Teakerne Arm provicial park, our goal is to hike up to Casselle lake. It is a short hike up along side some 'falls', just a trickle right now. Here we go for a quick swim. Several others there, all from sail boats or power boats. this is a very nice lake, with good jumping 'cliffs', maybe 10ft high. The water is warm clear and deep. There are sunken Logs, that stand vertical, the tops just at the surface. We stand on the upper branches of the long dead trees.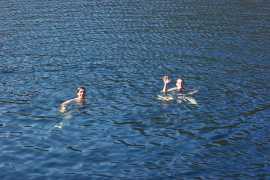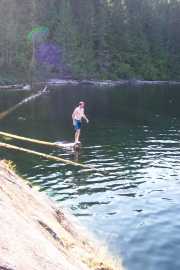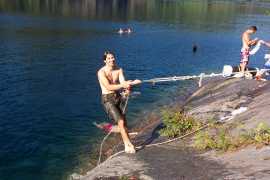 After a short swim, we head back to the kayaks, and paddle to the near by camping sight. The campsite At the end of trekern arm is very small. We setup, and are lucky to be the only ones there. There are already others, but they are camping at a different (un marked) site, about 400m away.
Night settles in, stay up watching the stars come out. Only the single cottage down the Arm intrudes with it's light, and the sound of the generator. Eventually, the generator shuts off, and the light slowly dims to black. We sit and enjoy the silance and solitude for a while. Watching the occasional shooting star flash across the milky way, before calling it a night.
Day 3: to Roscoe Bay
Well the thing with paddling down an arm, it means you get to paddle back out. From memory I'm guessing it is about 3km down the arm. It is calm in the arm, and easy going.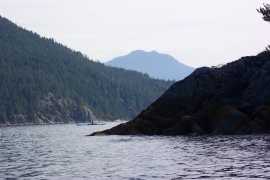 At the entry to the cannel, we glide over the shallows as we cut betwen the islands at the end of Joyce Point. Not a touch with the kayak, but the channl small and shallow enouch that it is diffictult to push water with the paddles. There is some kind of oster or mussle farm (I assume) here. We skirt between the peer like setup, moored with ropes running down to the black depths.
After leaving the mini bay at Joyce point, we are back in Lewis Channel, heading South-East down the West side of West Redonda island island. We are now in a bit of a head wind, with the biggest waves of the trip, although still nothing scary. Paddleing strait into it The waves are around 1.5ft, occasionally hitting 2 ft.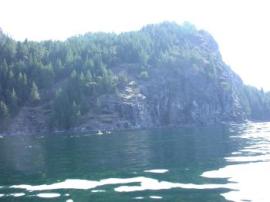 After about an hour, we are near campsite oposite Junction point. We cut in towards the cliffs just before enterying the bay infront of the camp site. The sun reflecting off the walls. Rich is ahead of my by 50m, fairly close to the wall now. He looks pretty insignificant.
Stop at the camp site, which is in a bit of a shelterled area, partially seen on the extream right of the picture above. The tide is pretty far out. As we glide in the depths suddenly come strait up to the suface, and then a gentle slope from the waterline to the trees. There is only a foot or so of water over the cliff. Very impressive. I wonder if the tide is coming in or going out still. We hall our kayaks up a ways just to be safe.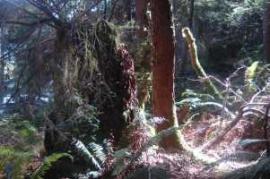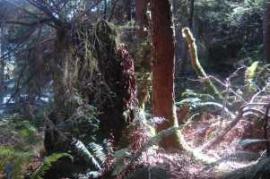 Hike up to the lake.
We land and hike back to the lake. There is no real trail here, at least we did not find one. But this is BC, and the undergrowth consists of mostly ferns, and pine ground. pretty easy going. The lake does not seem to have any kind of well defined shore. No swimming here today. the edge of the shore we are at is in a stand of dead water trees still standing tall in the water.

Treed end At the lake
Back at the beach we find the tide was still going out, and the, nice easy sloping beach now ends in a drop to the water of just over a foot. The rocks at the drop are large, sharp, and a bit slick. Makes getting back in a bit tricky.
We continue on down the shore of the West Redonla island. Refuge cove is just ahead. on our map it is marked as "all services". As we come around the point, we are going side ways to the waves. And the they reflect off the solid cliff faces. We are in "confused chop" around 2 ft high. First time for me, a bit 'exciting'. we paddle in, there is a fellow in a considerably bigger boat trolling back and forth in the chop.
As we enter the cove, once again we are paddling against current. The cove has an island at the enterence. As we come around the entrance, there is a garbage dock/scow. That's nice. And the view opens up to several buildings on the shore, and a warf full of boats.
As we line up to head to the warf, there is the drone of an engine, swooping down from the sky is a plane, coming to land directly accross our path. We stop and watch... pretty neat, he about 10 ft above our heads, about 20 in front of us.
Before us is Refuge Cove, A colection of buildings, including houses, resturant, small store, laundry shack (yes with showers). On the warf is a gas station, and lots of boats. We start to set in, with the old "three" abreast. However a larger sail boat asks if we can move so he can park. No, problem. I right around to the in shore side of the dock. Rich and Suz, just head across to the other side of the U shaped warf, but get kicked out again.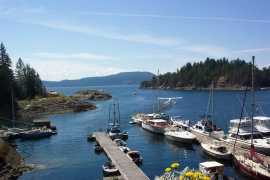 Today we have peperoni pizza for lunch. One and a half hours later we leave. Looking down from our lunch patio is the warf, with our buddy in the plane just taking off.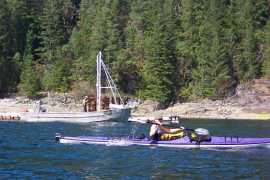 We continue around the south side of the island, between Martin Islands, and West Redona is another oyster or Mussle farm. this time there is some folks out working, loading the stuff onto their boat. After rounding the bottom of the isladn, we continue back up north to Roscoe bay. Rich and Suz are staying well out in the channel. I stay in closer to shore. Finally I'm puzzled as to what is going on, and head back out several hundred meters to hitch up with them. Once again the discussion of 'where are we going' insues. Once again none of us are right. They are heading way off to Horace pt, while I'm cutting in to the island to soon to make direct path. (I still prefer that just to follow the shore).
Rossco Bay is is narrow, about 500m deep, it is full of Jelly fish, floating in and out with the tidel currents. It is also full of boats, moored for the day/evening. At the very end of the bay is the campsite. Only one other site is in use right now, another pair of kayakers. This is the first time we will not be in near total isolation from others on the trip. Below pictures of us getting out at the end of the bay, and then of our campsite.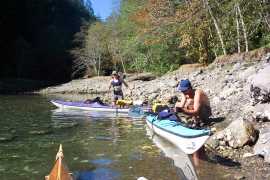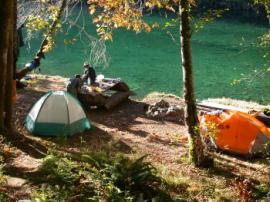 There is a trail running inland from Rossco bay to Black lake. Rich and I head out and go for a swim/wash. On the way out we pass a fairly large group of people swimming at the first easy access to the lake. We continue on, and find a less easy access, but 'good enough'. In we go, It feels a bit cool, but nice. Using bio-degradable soap to wash up is a blessing.
After supper, we go for a night paddle amongst the yahts and sail boats parked in the bay. For the most part it is quiet, the people below decks, or out enjoying the evening. Only one of the boats has the tunes on tonight, Kinda grates with the setting, but oh well.
Near the end of the bay we notice the water sparkles green with phosperesnace as we glide through it. Each paddle stroke sending sparks swirling around the paddle. Very neat.
The GPS log showed around 65km of paddleing thus far.
Day 4: To Curme Islands
We are slow getting up on Day 4. As we eat breakfast, the other kayak pair glides past our site. They are heading out to Curme Islands. We'll be following after them when we are ready.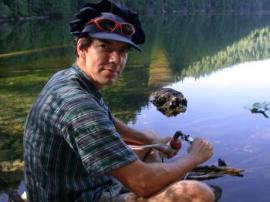 After a Breakfast of Oatmeal, Going to the lake and filtering water for the rest of the trip, Followed by breaking camp, loading the kayaks and heading out, a good chunk of the morning is gone.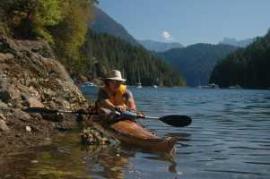 Setting off is a picture looking out into the Bay, with me in my kayak. There is something "odd" in this picture. Can you see it? I'm talking about the cloud. Probably the biggest one we saw all trip. What beautiful weather.
We paddle acrross the confluance of Waddington and Hornfray Channels, heading for Melville island, as it is a bit closer. Once near, we change our course and head directly for Curme islands. Curme Islands are several small Islands. The first pair we paddle between, already have a camp setup, a family has already paddled in. We see another tent up on the island to the west. We split up and search the islands for a camp site. I head around to the southern Islands, Very nice, but again, already taken. We endup back almost where we started, taking one of the bigger islands for ourselves.
Curme Islands are very nice. However, unlike the last campsite, there is no out house. These really are rocks with little ground cover. Finding places to 'go' is a bit difficult. you can see there are lots of other digs in the dirt around.
It is now near lunch. We set up our tents, some Tarps for shade, and then take a nap. We are all pretty tired now. Several Pictures from the campsite and the island below.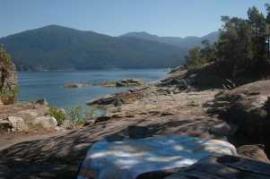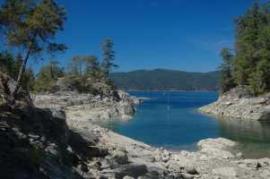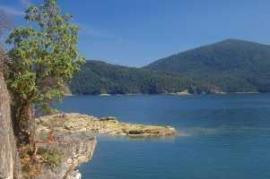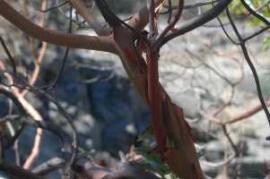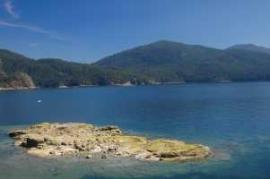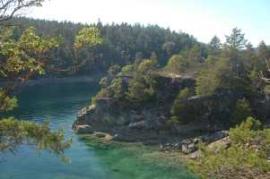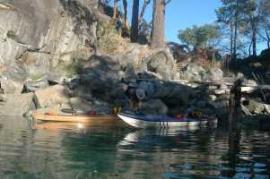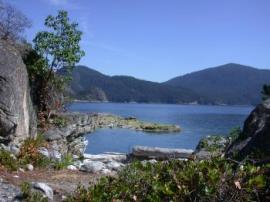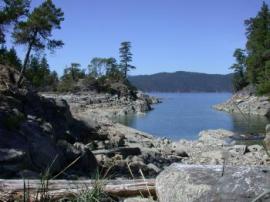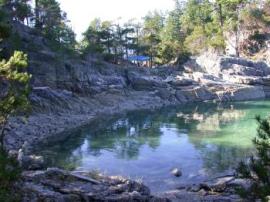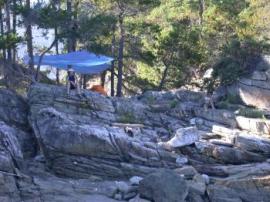 We wake feeling refreshed. After a bite, it is around 3:00 or so. An afternoon paddle to Prideau Haven is in order. Originally these islands were our destination, we'd planned to paddle out here and spend a few days in the vicinity. However we were told there is a lot of boat traffic here and we changed our plans. Now we head out to check it out, and see what we missed.
A quick crossing, Some folks are camping on Otter Island looking out towards Curme. It looks to be a nice campsite, a good second choice is Curme is full. We head off to the outside of Otter island.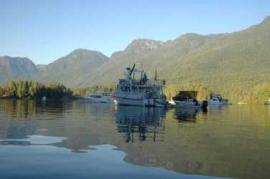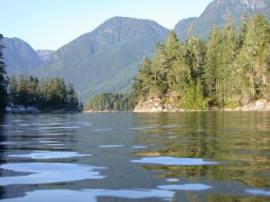 Following the shore towards Eveleigh Island. There is no wind, what little there is is blocked by the ilsand groups. We can see a few boats ahead moored for the evening. As we come to the narrow between Eveleigh Ilsand, our information is correct there are dozens of boats here. And with them thousands of jelly fish again.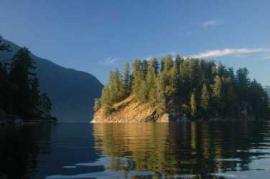 We do not stop, we simply head out around Eveleigh Island, and doddle our way back to camp. We choose to go between Otter and the mainland. A nice intimate passage. It is apperant that we are going against the current once again, but only just noticeable.
Rich and Suz are just coming out of the passage, and are nicely framed by the island. I quickly get into position to take the picture. In my hast to grab the camera out of the case it shares with my GPS, I apperently dropped my GPS in the water. I did not see it happen, and did not have the chance to grab it while it sank to the bottom of the sea.
We get back to the islands, around 6:00. a nice little evening paddle.
Day 5:
Today is our last day. Suz has to get out and fly home to get to a wedding. This cuts our trip about a day short but that is fine. Ironically, I was invited to the same wedding, but declined to go.
Well we have been spoild with a fresh water bath every second day. Today is no differnet. Although it will make for a long day we decide to head back towards Teniedos Bay and hike upt to Unwin lake for another wash.
On the way at Ray rock, we see a group of seals sunbathing on the rocks. this is the first group of seals we've seen. Through out the trip we've seen loners out on the water. Here there are a dozen or more. Several are in the water watching us check them out.
We land in Tendos Bay, it is also a popular place. there are a few kayakers in the camp site, and lots of boats in the bay. As we drag our kayaks up past the high water line, several boats land. Lots of people are heading up to the lake.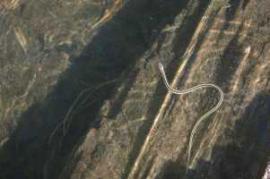 We come to the lake. We are at a bay full of logs. Suz is behind us some where. As rich and I walk out accross the bay on the logs we spot a big snake. It gets away. however his little brother is out. We get a few pics of him in the water. Very cool, takes me back to being a kid and spending hours out catching these guys.
Washing in a lake while camping must be one of the great joys in life. (yes we use camp suds, btw). The slightly shocking cool water, the quick scrub, then a bit of a swim. As we sit on a log, jutting out into the water and sun dry. We watch a dozen or so folks jumping from the cliffs. It's still pretty early, This place must get packed later on. There are a few groups there. The jump from higher and higher, a few guys working at out doing each other.
On our way back Rich and I start chatting with a fellow sitting on a long. He and two buddies bought a small sail boat are are trying to sail from Seattle(?) to Alaska. Pretty crazy, but I certainly do not mean that in a bad way. After a bit Rich and I head back. Once again the tide has gone out considerably. We'll have a bit of a lug to get the kayaks down.
But first some lunch. Peanut butter, jam, and bread. As we sit on the rocks. People are coming back to find their boats are high and dry. There is a group of young teens coming ashore, Their leader strikes me as American. He's ordering them around, and giving advice on how an assault on this bay would take place and things like that. Kinda strange. As the second group is coming in, I as one of them if they are scouts or somethign. He tells me it is simillar, but that they were sea rangers (or somehting like that)
Buddy from the logs is back. he has a few jugs of water now, but no boat. he just swims them out to the sail boat. That's a first for me. everyone else has a punt, or little power boat.
Now for the grind. We know we have a long day ahead of us. I'm not sure if it is all in the head, but it sure seemed to take a long time to get out of Tenedos bay. Eventually pwe pass Portage cove, accross on Mink Island there is another colection of boats in the bay there.
It is around here that we see dolphns (or porposes), just the backs arching out of the water. just there for a second, then gone. I saw them first, but never saw them again. Rich and Suz saw them twice after that.
It takes what feels like a full day to get to Galley Cove (also full of boats). We work our way around Zaphine point (miss labeled Sarah pt on my map). We see a house, with a bloke sitting out front (or back) out workign on a lap top. Must be nice.
It feels like we are done, as we round into Oakeover arm. As we raft up for a bit of a rest, we discuss the rest of the trip. Suz think's it is 4km... checking the map we have another 10km to go. whew.
On the way back there is much more boat traffic in the arm. One fisherman heading out is really moving, kicking a big wave. At the last minute he throttles down and glides past, with an appology of "sorry" out the window to us.
As we paddle in we are overtaken by a few sail boats. One comeing from behind just as we were crossing to Coode Island. That was a bit spooky. It looked like he was going to pass to one side, but ended up going to the other. On deck dancing away was a young girl, nice to see someone having so much fun.
Comeing back in we cross paths with another group heading out. I think back to when we were heading out. these guys are going pretty hard, we are now 'dragging our asses' (at least I am). Passing the houses again, thinking it would be fantastic to live here. The race is now on, It is obvious Suz and Rich are racing in to the takeout. I go too, but can't catch up to them, but a quck sneak path in through the pier, as they go around puts me to land first. Ha! I win. what a great trip, another couple of days would have been better so we could check out more, but even so very nice.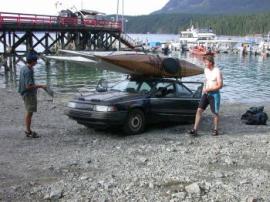 the last picture is of the car with the kayaks loaded on top. I'd have tried to spare you the blinding white glowing object that is me. But I'm in the only two pictures we have of the car. That's it, all over but the long drive home. [an error occurred while processing this directive]
Copyright Myrl Tanton 2004
---